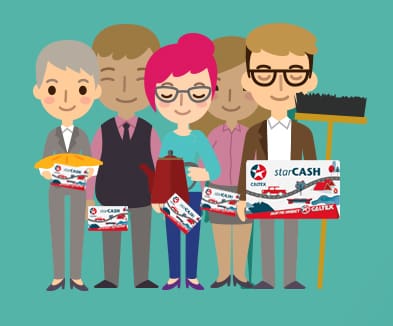 * terms and conditions apply
Support Crew Supermarket Voucher Promotion
Terms and Conditions
Terms and conditions: Create a Support Page and the first 20 qualifying pages will receive a $50 supermarket voucher for the person in need to be provided by Support Crew.
Promotion begins at 12.01am on Tuesday 1st December 2021 and closes at 11:59pm on Monday 28th February 2022.

This promotion is run by the Promoter: Daffodil Enterprises Limited, Level 6 Ranchhod Tower, 39 The Terrace, Wellington.

To qualify for the $50 supermarket voucher, a Support Page must be created for an individual, either by the individual themselves, or by another person.

The $50 supermarket voucher will be given to the person whom the Support Page has been set-up to support.

Once confirmed by the Promoter that the Support Page is a qualifying receiver of a $50 supermarket voucher, the person whom the Support Page has been set-up to support must verify their address, and their address must be obtained within two weeks for the $50 supermarket voucher to be sent to either person. The Promoter will attempt to make contact to verify details a minimum of two times within those two weeks.

To qualify for the $50 supermarket voucher the Support Page MUST be deemed an 'active Support Page' and by such must meet ALL of the following criteria:

have 4 or more Support Crew members

have 2 or more upcoming needs fulfilled by their Support Crew members

be created during the months of December 2021 and February 2022

A participant can only be entered once (as a person in need) and to be set-up with a Support Page.

A maximum of 20 $50 supermarket vouchers will be provided during this promotion.

The Promotion is open to New Zealand residents only. Employees of the Promoter and employees of the supermarkets, including their immediate families, are not eligible to participate at any time. "Immediate families" means the husband, wife, spouse, parent, siblings, and children (including step parent, sibling and children). The Promoter reserve the right to request proof of an entrant's eligibility in the event that there is a doubt over his/her eligibility for the Promotion.

A maximum of one $50 supermarket voucher will be provided per individual/person in need.

The supermarket vouchers are not exchangeable and cannot be taken as cash.

The Promoter reserves the right to verify the validity of each Support Page and to disqualify any Support Pages who tamper with the page set-up process or who submits an entry that is not in accordance with these Terms and Conditions.

This Promotion is not sponsored, endorsed, administered by, or associated with Facebook and Facebook has no liability to entrants in relation to the promotion. Facebook is released from any and all liability in relation to your participation in this promotion. All information provided in connection with setting up a Support Page and participating in this promotion is to Support Crew and not to Facebook.

The Promoter's decision on all matters is final and no correspondence will be entered into.

The Promoters may cancel, terminate, modify or suspend the Promotion or these Terms and Conditions at any time and for any reason before the end of the Promotion Period and shall not be liable to anyone for any loss or damage incurred as a result.